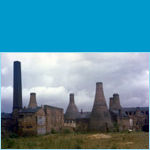 Gladstone Working Pottery Museum
Stoke-on-Trent, Staffordshire
Let your imagination go back two hundred years to a small English village called Stoke-upon-Trent. While it, and four other near-by villages, are now grouped into the city of Stoke-on-Trent, this did not happen until later in the 19th century.

At the beginning of our story, Stoke-upon-Trent was surrounded by fields and pastures; but a new industrial era was dawning which would soon dominate the landscape. Given ample local sources of coal and clay, that part of Staffordshire had long been a centre for the production of earthenwares. However, in the mid-1790's, changes were afoot. New roads were being built, and a rapidly developing network of canals provided cheaper transportation of raw materials to the potteries and for shipping products to markets throughout the United Kingdom, and to sea ports for export abroad.

In the 18th century, English potters had great difficulty obtaining good quality materials necessary to make porcelain. Experiments began as early as the mid-1740's using calcined animal bone ash to provide strength and translucency to various body formulas. Potters eventually concluded that ox bones gave the best results. However, until 1796, a controversial process patent precluded the legal production of bone china as we know it.

At the same time, new wares were desperately needed for English tables. Due to disruption in trade with the Far East, compounded by political upheavals on the Continent, the supply of imported porcelain had virtually dried up.

Not to miss this opportunity, Staffordshire potters began experimenting and, when an attempt to extend the patent failed in Parliament, Joseph Poulson was among the first to spring into production in his new china pottery. In or by 1796, he had also formed a partnership with Thomas Minton who had built a near-by earthenware pottery. They owned their two operations separately, but Poulson was probably the works manager for both as Minton was trained as an engraver, not as a potter. For his part, Minton had gained valuable retail experience working with his brother, Arthur, who was a `chinaman' in London. The Minton & Poulson production was jointly marketed under the partnership.

Earthenware Soup Dish, Early 19th c.
Cumming Collection
Gardiner Museum of Ceramic Art


No marked examples of Minton's early earthenwares have survived, and relatively little was known about it until Geoffrey Priestman wrote his definitive book on the subject. The illustrated earthenware dish, which came from a very large dinner service, was identified during Mr. Priestman's research. Also, there are surviving pieces from a handpainted china dessert service, in this identical pattern, which would have followed the main course using the blue and white earthenware service.

When Joseph Poulson died in 1808, Thomas Minton rented Poulson's pottery from his estate and carried on making china, with John Turner II as works manager. When Turner left in 1815, china production was suspended until 1824 when Minton established a new china operation on his own property across the road. New shapes and patterns were introduced, beginning again at pattern number one. This ushered in a whole new era at Minton where Thomas's son, Herbert, was to propel the company into its most notable period through the 19th century.

When Herbert Minton died, without a male heir, his nephew, Colin Minton Campbell became head of the firm. Campbell was a visionary like his uncle, but after he died in 1887, his successors did not have the same entrepreneurial skills. Even though marvellous work continued to flow out of the factory, management languished among disinterested Minton family members and the company narrowly escaped bankruptcy. By the early 1900's, most of Minton's great 19th-century designers and artists had died, retired, or left the company.

Sadly, the 20th century brought progressively more difficult times, including disruption during two World Wars, until the company finally became part of the Royal Doulton group in the 1990's.


Thomas Minton

On graduation from Shrewsbury Grammar School, Thomas Minton was apprenticed to Thomas Turner, at near-by Caughley, where he learned to be an engraver.

Minton's younger brother, Arthur, had become a `chinaman' in London, and Thomas went into retail partnership with him until this arrangement was dissolved in 1792. During those years in London, Thomas Minton also engraved copper plates for the Staffordshire potteries, including Spode. He decided to move to Stoke-upon-Trent to be close to his customers; exactly when is not known, but it was likely in 1792.

He took a direct interest in the copper plate engraving and printing processes in his pottery, engraving some of the patterns himself.

Joseph Poulson

Joseph Poulson has been unjustly neglected by history, albeit that his recorded contribution to the ceramic world only spanned some 20 years before his death in 1808. Coming from generations of potters, he was baptised in the local parish church in 1749, but we know nothing about his early years. He clearly was an experienced and skilled potter and, according to one historian, he had been Josiah Spode's works manager where he could have been involved in Spode's bone china experiments. In any event, he was in the forefront of the introduction of this new product which quickly began to appear on tables in England and abroad. There's no doubt that Joseph Poulson played a major role in the success of the Minton & Poulson partnership. (For further biographical information see 'Joseph Poulson 1749-1808:Bone China Pioneer' in the Northern Ceramic Society Journal, Volume 12, 1995.)